By Craig Andresen – Right Side Patriots on American Political Radio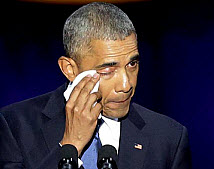 Just this past Tuesday night, a spectacle of spectacles took place in Chicago. In what is arguably the nation's biggest gun-free…target rich zone, where more than 750 murders took place in 2016, a 58% spike over the previous year, and where a total of 4,368 people were shot last year…
Obama gave his farewell speech.
For the record, in the liberal gun-free Mecca of Chicago…more than 90 people have been shot so far, since January 1st of this year.
But there he was, Mr. Gun Control, and the nation's leading firearms salesman for 8 years running, licking himself all over…much like my dog does in front of company…telling the assembled socialist collective what a great job he's done leading our nation…from behind.
Frankly, I was surprised he didn't drag his butt across the carpet when he was finished, but let's have a look at some of the highlights from that spreading of manure.