By Craig Andresen on July 16, 2014 at 5:44 am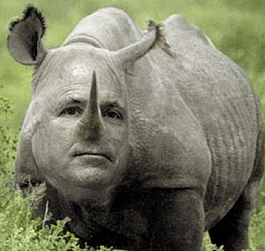 Welcome to the new normal?
If this be normal, I want no part of it.
We are now but three and a half months from an election that could at best, start to turn the ship around toward calmer waters but it seems some, both elected by the right as well as those who elect the right are bound and determined to scuttle our last chance to slow the decline of what used to be the greatest nation on earth.
What we have today is one party hell bent on defending the dismantling of our nation and the other, content to sit on their hands while it happens.
Shame on the GOP for staunchly backing those who would do nothing in the face of tyranny. Boehner, Ryan, McConnell, Graham, McCain, Rand Paul, King and the list from the right side of the aisle goes on….gutless, spineless wonders all….too comfortable in their cushy seats of power to take a stand…lacking the balls to speak out except against those who adhere to their oaths.
Welcome to the new normal?
Up is down, wrong is right. The more absurd the policy the more vigorously it will be defended by the Kool Aid slurping liberals and the more common sense the solution to the problem, the more it will be decried by the left.
From our stagnant and declining economy to our rapidly rising national debt…from Obama's betrayal of our Constitution to his treasonous activities abroad…the race is on to see who claims the precious, the ring and all that goes with it first. Will the caliphate solidify before the invaders take America or will it be the other way around?
Obama doesn't give a damn which means he's either so mentally disturbed that he now lacks the ability to recognize any iota of reality or…