By Craig Andresen on May 21, 2014 at 4:38 am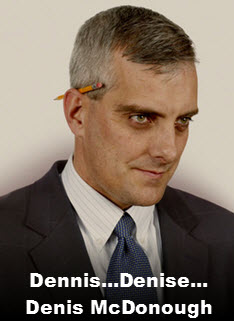 Here we go again.
How many times does this regime think they can rehash the same old, dog-tired, worn out crap and get away with it?
I have a little advice for the Dictator…rewrite the code book…the only people still buying it are those Kool Aid drunk socialists who will believe whatever is spoon fed them by the lapdog media and even some of THEM are beginning to question the validity of the propaganda sewage your spewing.
According to the Dictator's minion, Denis McDonough who is either one "N" short of Dennis or an "E" short of Denise…Obama is, "madder than hell" over the VA delay scandal and…"At the same time that we're looking at accountability we want to continue to perform to provide our veterans the services that they have earned. The President will continue to demand that he and all of us who work for him continue to fix these things until they are functioning the way that our veterans, believe they should and the way that, so that they get the, the services and the benefits that they have earned."
One can be sure there will be a puppy treat for any lapdog who runs with that hackneyed false Frisbee of sincerity and a steak bone for Denise or…Dennis or…Whatever his name is.
We've heard it all before, just before the deck chairs on the sinking Titanic get rearranged. The Dictator is mad. Mad as heck…"MADDER THAN HELL" over a breaking scandal. He vows, promises and declares that he will get to the bottom of it, whatever it is this week and he will bring to justice those responsible.
Excuse me but…