Be sure to Click LIKE at the bottom of this article, and share it everywhere!!
By Craig Andresen – Right Side Patriots on American Political Radio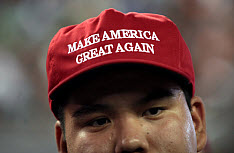 Recently, some anti-Trump agitator posted a question on Facebook asking those who support President Trump…"when was America great anyway?"
Obviously, this was a person who doesn't think America has ever been great, nor should America be great and therefore, the campaign slogan "Make America Great Again" is a non-starter. This person was also sucking around for an argument, hoping to irritate Conservatives and draw them into some mindless altercation where the poser of the question could then start in with their anti-American nonsense.
With that clearly in mind, and knowing full well that commenting on Facebook simply didn't provide the necessary space to properly answer that idiot's question…I decided to dedicate a bit of time to the answer here, in The National Patriot.
To be sure…