Be sure to Click LIKE at the bottom of this article, and share it everywhere!!
By Craig Andresen – Right Side Patriots on American Political Radio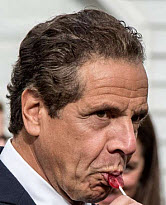 The race is on.
No, not the 2018 midterm race…not even the 2020 presidential race.
I'm talking about the race to see which liberal can be the most un-American…the race to the bottom of the barrel, and it's a tight race with the lead shifting with almost every tweet, each interview or statement made by some abject liberal idiot.
Andrew Cuomo, the governor of NY and an idiot of the 1st order said last week that, "America was never that great." Really? When we beat the British in the Revolutionary war…we weren't that great? When we beat them in the sequel, the War of 1812…we weren't that great? When we abolished slavery we weren't that great? When we united north and south, when the south figured out how to grow economically without slave labor, when we won 2 World Wars, instituted the Civil Rights Act, went to the moon, invented things, created things, pioneered things, cured things and did all the other things that have become the envy of the world…we weren't that great?
I've got news for that monumental moron…