By Craig Andresen – The National Patriot and Right Side Patriots on cprworldwidemedia.net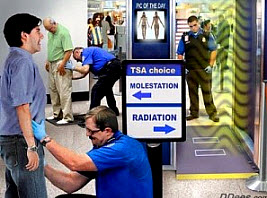 Well now…don't we all just feel REAL safe when we go to the airport and board a flight to somewhere?
Over the past few days, we have learned that the TSA…the Transportation Safety Administration for technical identification purposes…Touchin' Feelin' and Squeezin' for reality's sake…has FAILED on 95% of airport security tests conducted by its parent bacterial infestation…the DHS…a governmental agency that has spent tens of BILLIONS of taxpayer dollars to accomplish what, exactly?
Oh, that's right…according to the official congressional report…absolutely nothing.
And we should be surprised by the TSA's failure in this regard?
Try sneaking too much shampoo onto your flight or get caught with something as dangerous as a nail clippers in your carry-on bag and YOU just might find yourself on the NO FLY list but…smuggle fake explosives, guns, ammo and other contraband  past airport screeners…
Excuse me sir…