By Craig Andresen – The National Patriot and Right Side Patriots on cprworldwidemedia.net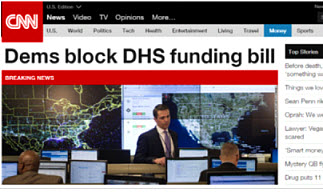 They will, of course, lay the blame on Republicans but…so far…the bill that would fund DHS has been blocked. Not once…not twice…not three times but FOUR times and all four of those blockades have been put in place by…LIBERALS.
Even CNN has admitted it.
The house-passed bill would fund DHS and eliminate all funding for Obama's amnesty dictate and THAT is why liberals are blocking it.
Mitch McConnell, the nutless wonder that he is has caved to support Obama's call for a CLEAN DHS funding bill but since such appropriations bills must originate in the HOUSE…the question becomes…will Boehnar cave this time as he has done so many times before?
Here's the most absurd part of this whole thing…
LIBERALS are INSISTING that Obama's amnesty executive order be FULLY FUNDED…even though he has been BLOCKED by a FEDERAL JUDGE from enacting it at all.
One term being used to describe the liberal's motives in this situation is blackmail.
Other terms for it are wheeling and dealing or…standard operating procedure for congress as for as long as there has been a United States congress, this is how things get done . You want this…then give us that or…if you don't give us that, we won't give you this.
To understand the "dire" nature of allowing DHS funding to lapse…we must look at exactly what the DHS is and how they spend our taxpayer dollars.