By Craig Andresen – The National Patriot and Right Side Patriots on cprworldwidemedia.net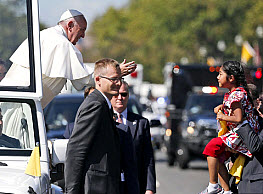 A papal visit is always good for a spontaneous moment isn't it?
Or IS it?
As the Pope paraded through Washington DC a few days ago, a little girl, carrying a yellow T-shirt, ran from the crowd, haltingly at first, until Pope Francis motioned for her to join him and then…it went viral…just as planned.
That's correct…she, that little 5 year old girl was a plant…a child of illegal aliens hand-picked nearly a year ago to do exactly what she did. It was rehearsed. It was staged. It was a public relations maneuver put together by a Los Angeles based, illegal alien support group called…Full Rights for Immigrants Coalition.
Full rights for ILLEGAL ALIENS is what the group SHOULD be called as it is exactly that for which they advocate…full rights for those whose very first act in our country was the breaking of our laws.
According to Juan Jose Gutierrez…