By Craig Andresen – The National Patriot and Right Side Patriots on cprworldwidemedia.net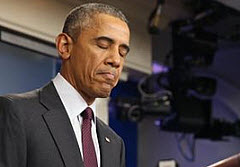 "There is a gun for roughly every man, woman, and child in America. So how can you, with a straight face, make the argument that more guns will make us safer? We know that states with the most gun laws tend to have the fewest gun deaths. So the notion that gun laws don't work, or just will make it harder for law-abiding citizens and criminals will still get their guns is not borne out by the evidence."
Those were the words of Obama, Thursday, after he rushed to the White House briefing room before the bodies were cold in Roseburg Oregon…not allowing a crisis go to waste…to promote his anti 2nd Amendment agenda.
Let's just see about his statement shall we?
Where ARE the MOST "gun laws" in our nation found?
Chicago Illinois…and how is that working out?
Well…