By Craig Andresen – The National Patriot and Right Side Patriots on cprworldwidemedia.net
So…now Hillary Clinton has joined Obama in the exploitation circus of liberals calling for more gun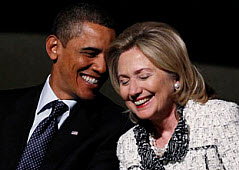 control measures…measures meant to do nothing but strip law abiding citizens of their 2nd Amendment rights.
Here was her quote from Saturday…
"Regulations can be passed while still respecting the Second Amendment and "respecting responsible gun owners."
"The politics on this issue have been poisoned, but we can't give up. The stakes are too high. The costs are too dear."
First of all…we already HAVE laws that respect LAW ABIDING gun owners in this country and ONLY the LAW ABIDING gun owners are ABIDING by them…and second…Well, I'll get to my second point in a minute but first…let's have another look at OBAMA'S insipid exploitation of this tragedy.
"We don't know all the facts but…once again…someone who wanted to inflict harm…had no trouble getting their hands on a gun. Let's be clear…at some point, we as a country will have to reckon with the fact that this type of mass violence doesn't happen in other advanced countries. It doesn't happen in other places with this kind of frequency and it IS in our power to do something about it."
Okay…before my head explodes…let me now get to that second point.