By Craig Andresen – The National Patriot and Right Side Patriots on cprworldwidemedia.com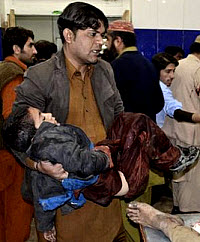 We should cozy up to terrorists huh? We should empathize with them or offer to them some apology?
Really?
Only barbarians can empathize with such vile scum as terrorists and only liberal garbage could ever advocate getting cozy with the world's diseased swine.
Cozy up to this liberals…
SPOON with THIS Hillary and the rest of the liberal makers of nice-nice…
The death toll, mostly of CHILDREN now stands at more than 140 after a massacre in a Pakistani school. A massacre carried out by terrorists…carried out by the Obama supported Taliban.
You know I do not believe in coincidences when it comes to the political or foreign policy world and I do not for one brief blink of an eye believe that this horrific mass murder was a coincidence in its timing.
Just barely a week ago, Obama ordered the release of 6 more GITMO terrorist prisoners…captured more than a decade ago in Afghanistan and in…PAKISTAN. He sent them to Uruguay where that country's president stated that…"We have offered our hospitality for human beings who suffered an atrocious kidnapping in Guantanamo," and further stated that those terrorists would be considered REFUGEES and that his government had NO INTENTION OF MONITORING THEM!!!
According to Clifford Sloan, a State Department's special envoy in the Obama regime…