By Craig Andresen – Right Side Patriots on American Political Radio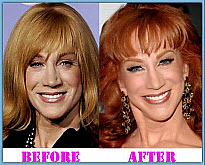 Finally, liberal tolerance has a face…a lifted, plastic and surgically altered face…but a face.
Kathy Griffin's face.
A few days ago, Griffin, who engages in false advertising by billing herself as a comedian, went to great lengths, and one can assume some cost, to have a portrait made of herself holding a bloody, decapitated representation of the head of our nation's President…Donald J. Trump.
This was not an exercise in a momentary or spontaneous loss of class…