Be sure to Click LIKE at the bottom of this article, and share it everywhere!!
By Craig Andresen – Right Side Patriots on American Political Radio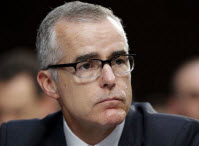 Well, this is interesting. It's not any great surprise, but it is very interesting.
Former FBI Deputy Director, Andrew McCabe is set to testify before the Senate Judiciary Committee, regarding the Clinton email probe, and has agreed to do so only on one condition…that he be provided an immunity deal.
Why immunity?
Because McCabe is also the target of a separate criminal investigation as it seems he lied to internal investigators with the Inspector General's office…and what does that tell us?
Plenty.
Immunity for McCabe would mean that nothing he says under oath could be used against him in his criminal case…and since the Senate Judiciary Committee is looking into the Hillary Email scandal it would follow that whatever it was he lied to the Inspector General's office about must be connected to the Hillary email case.
McCabe has always said he did nothing wrong, and that may or may not be true…