By Craig Andresen on July 2, 2014 at 4:28 am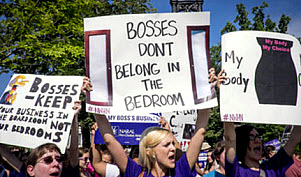 Man oh MAN…Monday's Supreme Court decision on the Hobby Lobby case has left liberals, already barely hanging on by the last threads of one screw, completely unhinged.
Not at all surprisingly, the decision went 5-4 but liberals and their ideology that ALL of us should pay for what a FEW want, was struck down and more to the point, it was struck down because of Obamacare and Obama himself were not allowed to force 'freedom FROM religion' down We the People's throats.
Five of the nine Justices agreed that a corporation, owned by those with deeply held religious beliefs could not be forced, upon mandate of government, to abandon those beliefs once they walked outside their doors or the doors of their chosen church.
For once, the Founders and Framers were smiling.
As the Founders and Framers set up our Constitution and specifically, the Bill of Rights, the 1st Amendment guarantees every American Freedom OF Religion. "Congress shall make no law respecting an establishment of religion, or prohibiting the free exercise thereof;" and this has today's liberals all tied up in knots.
For instance…