Be sure to Click LIKE at the bottom of this article, and share it everywhere!!
By Craig Andresen – Right Side Patriots on American Political Radio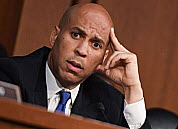 "We welcome you to the confirmation hearing of…"
That is as far as Chairman Chuck Grassley got in opening the Senate hearing for the confirmation of Judge Kavanaugh before liberals Kamala Harris and Cory Booker started the disruptions aimed at delaying, or shutting down the hearings.
Grassley didn't even get Kavanaugh's name out of his mouth before liberals began to open their collective pie holes. It was an orchestrated attempt to stop what they have no hope of stopping, and a ploy for media coverage of which the liberal mainstream media is always happy to supply.
According to Harris, and then liberal Cory Booker, the Senate Committee did not have access to some 42,000 documents regarding Kavanaugh's history until the night before the hearings opened, and they demanded that the hearings be shut down because they hadn't had the time to go through those documents.
To be clear…