Be sure to Click LIKE at the bottom of this article, and share it everywhere!!
By Craig Andresen – Right Side Patriots on American Political Radio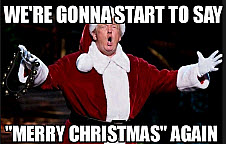 It's that time of the year when visions of sugarplums start dancing in one's head and our thoughts turn to the festive gatherings of families and friends.
Christmas…from the reason for the season, to jolly ol' St. Nick…from the giving of gifts, to food, fun, laughter and decorating.
Christmas is a time for celebration unless, of course…
You're a liberal.
With that in mind, allow me to provide, not so much as a set of rules, but more as a source of information…
The Liberal's Guide to Christmas.
Here we go…