Be sure to Click LIKE at the bottom of this article, and share it everywhere!!
By Craig Andresen – Right Side Patriots on American Political Radio
Oh boy…Thanksgiving…according to most liberals, the most politically incorrect holiday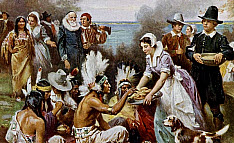 between Columbus Day and Christmas.
The first Thanksgiving was celebrated in 1621 at Plymouth Colony by the Pilgrims…that much pretty much everybody knows, but there's a lot about that first celebration that nobody knows because only two accounts of it were ever written down.
Therefore, it falls to me to provide a bit of a history lesson which I am more than happy to undertake, so let's get started with what little we actually know about that very first Thanksgiving…
To begin with…