By Craig Andresen – The National Patriot and Right Side Patriots on cprworldwidemedia.com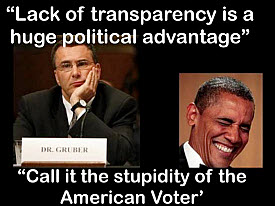 So just who in THE hell IS Jonathan Gruber anyway?
I mean…other than the guy who has exposed liberals, democrats and socialists as being stupid American voters. At least in that respect, Uber Gruber is spot on in his assessment but who IS this guy?
Well…he has a degree in economics from MIT…we know that much and…I'm reasonably sure if you ask ensconced and elected liberals he has explosive diarrhea of the mouth as it seems, he has a penchant for telling the TRUTH…at THE most Inappropriate of times…an anathema for any liberal.
What seems to make Uber Gruber giddy is that he knows that he is eminently smarter than any liberal voter out there…on the street or in congress. He wallows about in his narcissism, marinating in it and while it doesn't really take that much intelligence to back the claim…an I.Q. equal to the pot in which a houseplant resides would fill the bill…Gruber's ability to fool Conservatives has now been proven to fall light years short of the mark.
Trust me liberals and socialists…