By Craig Andresen – The National Patriot and Right Side Patriots on americanpbn.com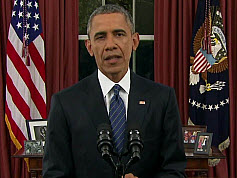 On Sunday night, Barack Hussein Obama stood in the Oval Office spreading manure from his oral orifice regarding how great his strategy of combating Islamic terrorism has been working and how, if we just stay the course, doing what he says, doing more of the same…everything will be okay.
That strategy, by the way, has been in place from the moment a 7th century Islamic barbarian shot up a U.S. military recruiting station in Littlerock Arkansas in June of 2009. That strategy has been in place through the Navy Shipyard Islamic terrorist attack, the one in Chattanooga, the one at the Boston Marathon, it was in place when an Islamic barbarian attacked four NYC police officers with a hatchet, and in place when another Islamic barbarian, Ismaaiyl Brinsley, assassinated two NYC police offices as they sat in their squad car.
It's the exact same strategy that was in place when two Islamic barbarians tried to attack an art exhibit in Garland Texas…and it was exactly the same strategy, the strategy Obama says is the only way to keep us safe that was in place last week when yet two more Islamic terrorists…barbarians…shot and killed 14 while leaving 21 wounded in San Bernardino California and to be clear, those two had designs on killing many, many more.
Oh, Obama did have a new wrinkle to toss into his manure spreader…