Be sure to Click LIKE at the bottom of this article, and share it everywhere!!
By Craig Andresen – Right Side Patriots on American Political Radio
According to David Cicilline, a liberal congressman from Rhode Island, President Trump's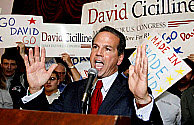 proposed border wall, "is a colossal waste for money."
That said…it's been the better part of 35 years since I took junior high algebra, and to be honest, it was not my best subject. I didn't see the need for it. In fact, my algebra teacher once asked me, in front of the entire class, why I had such a hard time grasping algebra.
My response was simple…
I told her that I used NUMBERS for MATH…and LETTERS for SPELLING. While that snarky line drew scorn from my algebra teacher, it elicited everything from snickers to full-on laughs from my classmates but that's not the point…
The point is…one doesn't have to jump through mathematical hoops, flaming or otherwise, to get to the heart of the abject stupidity of Cicilline's statement. In fact, all one has to do is apply…not common core…but common sense to it.
Okay…let's get after this…