By Craig Andresen Right Side Patriots http://www.americanpbn.com/
So, Marcel Lehel Lazar, aka Guccifer, the Romanian hacker is in FBI custody, he has been

speaking at length with agents investigating Hillary Clinton's use of a private email account and private server which we now know contained 2,100 classified documents and he has told Fox News that hacking Hillary's emails was…easy.
For their part, the FBI is not commenting either on their conversations with the hacker or about any evidence they have regarding whether or not he actually managed to hack Hillary but there is evidence that he was in there.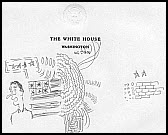 Apparently, this Guccifer has revealed "doodles" drawn by Bill Clinton which were stored on the Clinton Foundation site and here's why that is significant…Hillary's clintonmail.com server, the private server in question, has the exact same IP address as presidentclinton.com and presidentclinton.com is the email of the Clinton Foundation.
And from Hillary herself…the server used at the Clinton Foundation is the exact same server she used during her reign of espionage as the Secretary of State.
Some reports are suggesting that there is no evidence that the server has or had been hacked but there could be a very good reason for that lack of evidence and that is where Hillary's, now protected by immunity IT guy, Bryan Pagliano comes in. You see, Pagliano was an IT guy but NOT a cyber-security guy and from what I've been told…if Pagliano didn't employ a slew of security measures to capture and track threats or hack attempts…the server could easily have been hacked without leaving so much as a trace of evidence.
The fact is, Pagliano didn't put anywhere near adequate security on Hillary's server as it lacked a intrusion prevention system, which means, there was no way for her system to track or identify hacking attempts and the way Guccifer got in was one of the most basic ways one could do it…