By: Craig Andresen and Diane Sori / Right Side Patriots on American Political Radio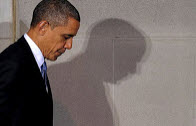 Article III, Section 3 of the U.S. Constitution states, "Treason against the United States, shall consist only in levying War against them, or in adhering to their Enemies, giving them Aid and Comfort. No Person shall be convicted of Treason unless on the Testimony of two Witnesses to the same overt Act, or on Confession in open Court."
Treason…'aiding and abetting' the enemy…'aiding and comforting the enemy'…treason…a powerful charge to bring against anyone, a charge not to be taken lightly, yet not to bring this charge against someone known to have committed treason is just as bad if not worse for treason unpunished defiles and defames all that is our nation…all that is our Constitution.
And treason no matter how one twists it is the hallmark of Barack HUSSEIN Obama's presidency…he knows it…he knows we know it…and yet he seems not care for this most vile of men knows no one will bring such a charge against him…at least they have not to date.
But that hopefully will soon change.