By Craig Andresen – The National Patriot and Right Side Patriots on cprworldwidemedia.net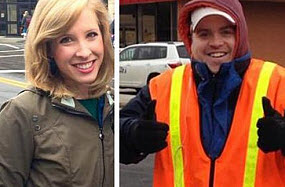 It sure didn't take long did it…for liberals to seize upon a crisis and not let it go to waste.
Yesterday, before the bodies of Alison Parker and Adam Ward had a chance to cool, before their families and friends, her boyfriend and his fiancé had time to even gather their thoughts, well before Vicki Gardner was out of surgery and in a recovery room…liberals of note were squawking about the need for more and more and more anti-gun laws…the calls for more regulation of guns by the government were flying off the liberal agenda's shelf.
The murderer was still leading the police in a chase…he hadn't even taken the coward's final way out yet before giddy liberals started grasping the moment.
It was as sick a display of agenda fever as I have ever seen and it was led by nothing short of ghouls.
First, it was Virginia's Governor and former head of the DNC Terry McAuliffe, who ran to the nearest cameras to make his pitch.