By Craig Andresen – The National Patriot and Right Side Patriots on cprworldwidemedia.net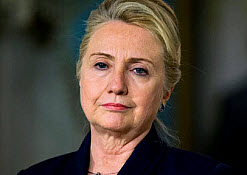 Look…we ALL know of Hillary Clinton's sordid past…her scandals past and present and we all know of her tirades some of which are still coming to light regarding how she used to throw things at and pummel Bill during the White House years.
A new book by Kate Andersen Brower, entitled "The Residence: Inside the World of the White House, reveals how, during Bill's antics regarding his affair with Monica Lewinski, Hillary took a book to his head leaving blood on the bad and Bill needing stitches.
We know…
And so too does the DNC.
This puts the DNC is something of a quandary.
In 2008, Hillary, the narcissist, felt the nomination was hers…all wrapped up and that the DNC would, along with the liberal media, propel her to the White House. It wasn't to be. The DNC found a much more engaging candidate in Barack Hussein Obama and given their choice between two socialists, they backed Obama because, quite frankly, he wasn't as abrasive as Hillary.
First Black president vs the first woman president…it didn't matter…first is first and with Obama's past safely hidden away and with his much more charismatic persona…Obama it was.
Hillary got the Secretary of State job, as a make-good for not being the nominee and that was supposed to have been that but again…