By Craig Andresen – The National Patriot and Right Side Patriots on cprworldwidemedia.net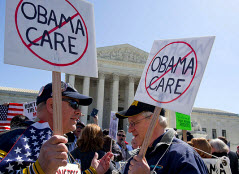 The ruling from the Supreme Court could come at any day…Obabacare hangs in the balance and Obama himself is feeling the pressure…big time.
Yesterday, at a press conference in Germany, the dictator was asked about the upcoming decision and his response was nothing shy of, well, desperation laced with lies.
At issue are four words that appear on page 95 of the 2700 page Obamacare monstrosity and what those four fords mean but before we get to that and Obama's lies told Monday in Germany…lets have a look back at how we got to this point to begin with.
Obama knows damn well how we got to this point and his weasling isn't going to change any of it.
Nancy Pelosi, most likely on Obama's orders as she is a good little minion, told us all, and congress, that in order to see what was IN the bill they would first have to PASS the bill. In other words…Obamacare wasn't fit to be read by the very people elected to read bills BEFORE they passed them.
Next…