By Craig Andresen on August 26, 2014 at 4:33 am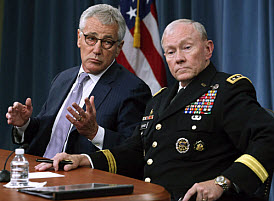 By Craig Andresen and Diane Sori (RIGHT SIDE PATRIOTS)
The chairman of the Joint Chiefs of Staff, General Martin Dempsey, has backtracked on his previously issued statement that we must take out ISIS in Syria, and now says that he will NOT recommend U.S. military airstrikes against ISIS in Syria until he determines that they have become a direct threat to the U.S.
Uh…excuse me but didn't Dempsey just sit alongside Defense Secretary…and known muslim sympathizer…Chuck Hagel a few short days ago in a joint press briefing, and agree with Hagel when he said ISIS is an "imminent threat to every interest we have" and that ISIS is "beyond anything that we've seen." Yeah…he did.
And didn't both he and Hagel say that ISIS must also be defeated in Syria as well as Iraq. Yeah… he did.
Gee I wonder what changed his mind…do the words 'Barack HUSSEIN Obama' come to mind…they sure do for us. Hey, we wonder if they 'talked' over one of Obama's recent games of golf…or if Obama has 'something' on Dempsey.
Sorry folks but it's just too damn convenient that now Dempsey…who was all gung-ho about taking out ISIS in Syria just a few short days ago…suddenly echoes Obama's words by saying that he believes ISIS is more of a 'regional threat' and is NOT currently plotting or planning attacks against the U.S. or Europe. Guess he hasn't looked at the ISIS conquest maps for starters or all the Iraqi heads rolling for finishers, and thrown in the middle is all ISIS' threats to attack the U.S. done through social and conventional media.