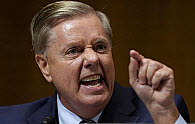 Lindsey Graham, the Senator from South Carolina who went off on both the liberals in the Senate Judiciary Committee and the Republicans last week says he now launching his own investigation into the Kavanaugh matter.
Graham is not however investigating Kavanaugh…he's investigating the liberals as to how they engineered what can best be described in the words of Kavanaugh himself, as a "search and destroy mission" against the man who I still believe will be the next United States Supreme Court Justice.
Good for Lindsey Graham…somebody needs to do what he's doing and I hope he can find the truth.
As for why Christine Blasey Ford was chosen by liberals to be the delivery system for this "search and destroy mission," I refer you to Diane Sori's op-ed, The Details of the Democrats Evil Plan Exposed.
Meanwhile…