By Craig Andresen – The National Patriot and Right Side Patriots on cprworldwidemedia.net
"Is tolerance a two-way street or not? There's a lot of talk about tolerance in this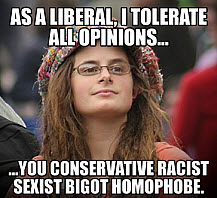 country today having to do with people on the left. But here Indiana steps forward to protect the constitutional rights and privileges of freedom of religion for people of faith and families of faith in our state, and this avalanche of intolerance that has been poured on our state is just outrageous."
Those are the words of Indiana's Governor, Mike Pence, in the wake of liberal panty wadding over the recent passage and signing of that state's Religious Freedom Restoration Act.
Doesn't Pence realize that the TOLERANCE liberals are always whining about only extends to those who feel as they do…believe as they do and advocate the exact same things as they do?
In fact, there are few groups in this country less tolerant than liberals but to really understand this latest sense of false outrage by the left, one must examine the RFRA.
What we have here is not at all unique. In fact, 19 states have passed just such an Act of their own but that doesn't even begin to cover it. Another 11 states have RFRA written into their state Constitutions.
Want more???