Be sure to Click LIKE at the bottom of this article, and share it everywhere!!
By Craig Andresen – Right Side Patriots on American Political Radio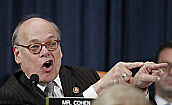 It's high time that somebody puts all of this impeachment nonsense into its proper perspective, and lucky you, here I am.
Now before I get started with what we've wound up with, allow me to recap where we've been as this whole clown-show has progressed.
It all started well before the 2016 election, and to be sure, it started before the nomination. That's when liberals started coming unglued at the prospect of Donald Trump getting the nomination, and what was the initial cause of their ungluing?
Simple. Trump was drawing much bigger crowds at his rallies than was Hillary Clinton, and it didn't take a rocket scientist to figure out that Trump was far more popular than was the old, inebriated bag.
So…