Be sure to Click LIKE at the bottom of this article, and share it everywhere!!
By Craig Andresen – Right Side Patriots on American Political Radio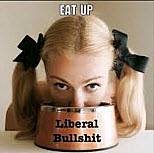 The liberal agenda is all BS. 100 percent, absolute, undeniable bullcrap…and I believe that I can prove it.
Honestly, I don't give a happy damn what plank from their agenda you care to bring up…I can show you how liberals have taken both sides of the issue when it suits them…and many times, they take both sides at the same time.
Sure it's tricky. You have to be accomplished, pathological liars to do it. You have to be the absolute definition of hypocritical to pull it off, and you must, and I mean MUST have no shame…but we're talking about liberals here so…
It goes without saying that liberals hate President Trump, and they hate Conservatives who support President Trump. Liberals also hate opinions that not fall into line with their own opinions.
Liberals hate religion, law enforcement, guns…people who own guns and large sodas.
The list of things liberals hate is far too long to compile here, but suffice it to say…liberals are indeed a hateful bunch and yet, they portray themselves as…