Be sure to Click LIKE at the bottom of this article, and share it everywhere!!
By Craig Andresen – Right Side Patriots on American Political Radio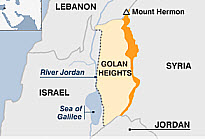 Last week was a very interesting week, and one that I believe needs to be put in its proper, snarky perspective.
Ready or not…here we go…
Okay…Syria is all bent out of shape because, last week, President Trump officially recognized Israel's sovereignty in the Golan Heights. Syria has, since 1967 accused Israel of occupying what belongs to Syria.
Ummmm…excuse me Syria…but perhaps you should have thought about the consequences of trying to invade Israel before you invaded Israel in 1967…and perhaps you should have considered the ramifications of getting your asses kicked in what has to have been one of the absolute shortest wars in the history of wars.
Sure…you figured…hey, new country, how ready could Israel possibly be to wage a war…right? Well, it took Israel just 6 days to whoop ya, and after doing so, Israel had every right to the Golan Heights…so get over it, and get over yourselves.
Syria…