By Craig Andresen – The National Patriot and Right Side Patriots on americanpbn.com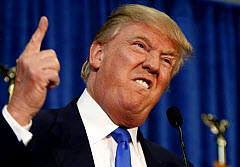 As Donald Trump continues to lead in the polls and as we are now but two weeks from the Iowa caucus…the first votes to be cast in our nation in 2016…I felt it was high-time we take a look at WHY Trump is so popular in some conservative circles.
What IS it that the Trumpers are so giddy about?
Trumpers, in their more than self-righteous way, will line up to tell you if you just ask and, I have asked.
Here is what I have been told…
Donald Trump will not be beholding to big corporations.
Are they SURE of this? I mean, Trump has a very long history of making deals with big corporations to finance his projects from hotels and casinos to golf courses and shopping centers and let's face a certain fact that is being completely ignored by the Trumpers…that being that Donald Trump IS a big corporation.
Trump can't be bought.
Trumpers will tell you at the drop of a hat that Trump can't be bought like other politicians. That he, because of his wealth, is above all that but, again there is something which Trumpers routinely, religiously ignore. Trump is the guy that BUYS politicians and their political favors.
In fact, during the very first Republican debate, Donald Trump not only admitted to buying politicians and political favors…