By Craig Andresen – The National Patriot and Right Side Patriots on cprworldwidemedia.net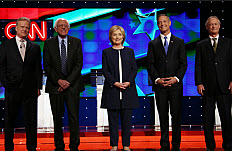 Did you watch Tuesday night's democrat debate on CNN?
Many on the right couldn't stomach the display and didn't tune in and I can understand that, but two particular factions of Conservatives SHOULD have been tuned in and watching with riveted attention…those on the far, FAR religious right…those I have called the holier-than-thou Conservatives and the Trumpers should have been GLUED to that debate and here's why…
If they, the holier-than-thous do what they did in 2008 and again in 2012…if they split the vote as they are threatening to do, again in 2016 and the Trumpers, as they too are threatening to split the vote, should have been watching Tuesday's debate because one of those people, on that CNN stage, or someone equally as bad (Joe Biden) or WORSE (Julian Castro) WILL become the president via THEIR proxy votes.
Who I'm talking about here are those who claim to be on our side who will either not vote at all should their one and only candidate not get the nomination or who will vote for either a 3rd party or write-in candidate thus splitting the Republican vote, assuring that either Jim Webb, Martin O'Malley, Lincoln Chaffe, Bernie Sanders, Hillary Clinton, Joe Biden or the Julian Castor wins.
On that stage Tuesday night was a display of socialism at its very worst. Chaffee started his career as a Republican who became an independent who then, just a couple of years ago, became a democrat who now claims he has never shifted his position on the topics. Sounds a lot like Trump's political affiliation history to me.