Be sure to Click LIKE at the bottom of this article, and share it everywhere!!
By Craig Andresen – Right Side Patriots on American Political Radio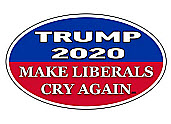 The 2020 presidential campaign is going to be a doozy, and it will begin to heat up in the next few months. Currently, there are some 23 or 24 liberals who have thrown their wadded panties into the ring, and that number will grow before the list starts to thin itself out due to attrition.
As I have said before, the liberals have no way of winning on real issues, so they are running on a combination of social, and social media issues, special interest issues, identity politics and pandering. As a party, they really don't have a platform, and as individual candidates, they have no planks that deal with anything of substance.
There is something however, that it seems the liberal candidates, and most likely around which the party itself will coalesce…and it should come as no great surprise…