By Craig Andresen Right Side Patriots http://www.americanpbn.com/
A few days ago, I was told, in no uncertain terms by one of Donald Trump's blind followers to,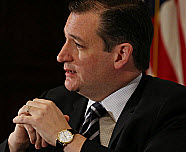 take my support for Cruz and "stick it!"
She failed to say where but she was clear in that she simply didn't want to read the truth about Trump, and in that respect, she is not alone as Trump's followers just don't seem to be capable of handling the truth.
I have always said that if one really wants to know what liberals are up to, just look at what they accuse Conservatives of doing. If there is a liberal handbook, I suggest that blaming conservatives for exactly what the liberal is doing is on page one.
Before the final tally from Wisconsin was in, but after it was clear that Ted Cruz would post a double digit victory there, Donald Trump issued another signature tantrum in which he accused Cruz of a crime directly related to this election.
Trump accused Cruz of coordinating directly with his Super Pacs which is in direct violation of election law and he did so without providing any details, without naming any witnesses and without even the slightest shred of evidence and while many regard such an allegation as little more than sour grapes, the incessant whining of one who acts like a 2 year old who didn't get his way…I suggest there is much more to it than that.