By Craig Andresen Right Side Patriots http://www.americanpbn.com/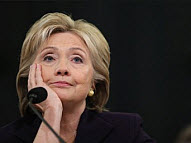 Remember back when Hillary Clinton spent a full day and into the night facing Trey Gowdy's Benghazi committee last fall…most of it with a smug look of boredom on her face because she thought she was untouchable? Remember how the questioning seemed to always revert back to Hillary's emails?
We may now have a somewhat clearer insight into that.
As I have previously posted, here in The National Patriot, the two investigations, Benghazi and the email investigations have converged. It is growing increasingly difficult to separate one from the other and things aren't looking good for Hillary as a result.
During that Benghazi hearing, one of the key components seemed to be one Sidney Blumenthal and his emails both sent to and received from Hillary Clinton regarding Benghazi. Many people, our readers included, were somewhat and rightfully curious as to why Hillary's emails and those of Blumenthal seemed to be of such importance to the Congressional committee investigating Benghazi.
Well…another piece of the puzzle seems to have fallen into place.
Regarding the email investigation…