By Craig Andresen – The National Patriot and Right Side Patriots on cprworldwidemedia.net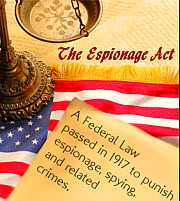 In this day and age, laws change quickly…what is law today may not be so tomorrow and what isn't law today could well become law by tomorrow morning but some laws, on the books for nearly a century, remain as pointed and relevant now as they were then.
Case in point…the Espionage Act of 1917.
In that act, it clearly states that…"gross negligence" as per the handling of any information regarding our national defense national is a punishable offense…a crime…and as such, should national defense information be removed from or not stored properly. If such information is not stored in its "proper place of custody," the responsible government official would face a maximum penalty of 10 years imprisonment.
Hello Hillary Clinton.
While one certainly knows that in 1917, the "proper place of custody" was a file cabinet or a safe and that those who wrote and enacted the Act never in their wildest dreams considered the advent of email…government servers, not one's private servers located in one's home in Chappaqua N.Y. are the "proper places of custody" today and in that regard…Hillary Clinton and her use of private email addresses and said servers is in breach of the 1917 Act.
Just a few weeks ago…