By Craig Andresen – The National Patriot and Right Side Patriots on cprworldwidemedia.net
On Thursd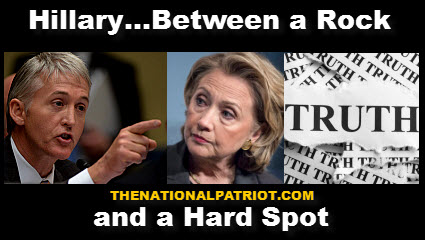 ay of this week, October 22, 2015…Hillary Clinton will be between a rock and a hard spot. The Hard spot will of the truth while the rock will be Trey Gowdy.
While many are somewhat baffled by the seeming lack of progress of Gowdy's House Select Committee on Benghazi, nothing could be further from the truth as, in fact, great progress has been made what's lacking in it are the headlines but that is by design.
Trey Gowdy, at this point, doesn't give a happy damn about the headlines because headlines are not what he's after in all of this…the truth is his mission and in that pursuit, Trey Gowdy is like a hungry dog tracking down a pork chop.
Over the past several months, Gowdy and his committee have interviewed some 41 witnesses…that would be 41 witnesses no other investigative committee related to Benghazi has so much as said good morning to and of those 41 untouched by any investigation witnesses…7 of them were eye-witnesses to the attack in Benghazi on September 11th, 2012. They were there. They saw it happen, They survived it and they know exactly what transpired…not only that fateful night but in the days, weeks and months leading up to that fateful night.
Trey Gowdy and his committee have also looked at some 50,000 emails and documents no other investigative committee, related to Benghazi, has seen and those emails and documents, until Gowdy got his committee's hands on them, had ever been provided to congress.
Oh, there's more…