By Craig Andresen – The National Patriot and Right Side Patriots on cprworldwidemedia.net
The Obama regime, including treasonous 2016 hopeful…then Secretary of State…Hillary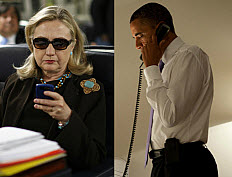 Clinton knew that the attack on our mission in Benghazi, on September 11th, 2012 was indeed a planned terrorist attack…that it had been planned ten days in advance and that it had absolutely nothing whatsoever to do with a vague, little seen You Tube video when they, the Obama regime and Hillary Clinton told us all otherwise.
That has been the focus of analysis garnered from the documents obtained by Judicial Watch via a FOIA lawsuit that took two years to be answered but, I suggest there is much more to be learned from those pages of redacted documents that what we already knew.
For instance…
As stated in the report…"The attack was planned ten or more days prior on approximately 01 September 2012. The intention was to attack the consulate and to kill as many Americans as possible to seek revenge for U.S. killing of Aboyahiye ((ALALIBY)) in Pakistan and in memorial of the 11 September 2001 attacks on the World Trade Center buildings."
So, it was no coincidence, as the Obama regime and Hillary claimed, that the attack took place on September 11th and it was not a "spontaneous" event drummed up by thugs in the street as a response to that now infamous You Tube video. But that is not the most startling piece of information to be discovered in the documents obtained by Judicial Watch.
There is this bit which should send chills down the spines of mainstream media…if indeed the invertebrates had spines at all…