By Craig Andresen on August 27, 2014 at 4:31 am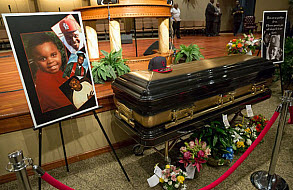 Dearly beloved, we are gathered here today to mourn the passing of common sense and decency and truth in the "black community." Oh, it's been on life support for some time now but, the plug has been pulled…in Ferguson Missouri.
It was, perhaps, THE most disgusting display of thug martyrdom whipped up by the racist propaganda machine yet.
Mike Brown is dead…long live thug culture.
Brown was killed on August 9th by a cop…a white cop…in the middle of a street in Ferguson Missouri and finally, after 3 autopsies and two weeks of rioting, looting, arson, shootings and various acts of mayhem carried out in his name, given a hero's funeral on Monday.
Ushers handed out tissues…and water…to the assembled mourners.
Brown's own cousin, Eric Davis, eulogized the dead thug by calling on the weeping voting bloc to, head to the polls, vote for change and said…"enough of the senseless killings."
Senseless killings?
READ THE FULL ARTICLE HERE!!!