By Craig Andresen – The National Patriot and Right Side Patriots on cprworldwidemedia.com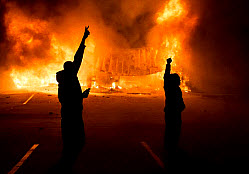 Yesterday, in The National Patriot, I laid out the politically direct truth regarding the criminal aftermath of the Ferguson Grand Jury decision and exactly who is responsible for it.
Today, I will go a step further to provide the direct compare and contrast Obama doesn't want you to read.
As I stated at the end of yesterday's article, "Mike Brown's 7 Steps to 6 Feet Under," all of the events that have transpired between the seating of the Grand Jury and the criminal aftermath of their decision have been orchestrated by the liberal machine and the wizard behind the curtain, pulling the levers and spinning the dials as well as the flow of information and propaganda is none other than Barack Hussein Obama."
And, as I have stated for years, "If you really want to know what liberals are up to, pay attention to what they accuse Conservatives of doing."
Take a seat and hold onto something well anchored Obama…you're not going to like what's coming next because…it's the truth.
Let's go back to 2009 and 2010…