Be sure to Click LIKE at the bottom of this article, and share it everywhere!!
By Craig Andresen – Right Side Patriots on American Political Radio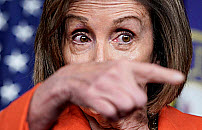 If you were going to take a vote on making a witch hunt inquiry official, there couldn't have been a more appropriate day to do so than on Halloween, and that is exactly what the wicked one of the west coast did on October, 31st.
Let me be staggeringly honest here…vodka-soaked Nancy Pelosi spent 7 months trying to gin up some sort of mandate to either move forward with such an official impeachment inquiry, fabricated though it may be, or get to work getting things done to fix real issues we face as a country, and the best she could do was prove that the liberal/socialist radicals that are leading her party are perpetrating a transparent sham.
Save 2 democrats who just couldn't bring themselves to join the revenge-minded, sour-grapes line of pressured thinking, every democrat in the House voted for moving the impeachment inquiry to the next level, and every single Republican voted against it.
As Pelosi stated some 7 months ago…