By Craig Andresen – The National Patriot and Right Side Patriots on cprworldwidemedia.net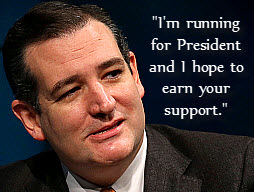 The first hat has been thrown in the ring and it may well be THE most Constitutional hat there is out there.
With a Tweet…Ted Cruz has made his intentions known.
"I'm running for President and I hope to earn your support."
There are two very important elements of that short tweet…first, that Ted Cruz IS running for the highest office in our great nation and second…that he hopes to EARN our support.
He doesn't EXPECT it…he doesn't just WANT it…he hopes to EARN it and THAT is more than just refreshing…it is downright honorable.
But wait…He was born in CANADA wasn't he? His FATHER wasn't a U.S. citizen…right?
Yes, there are those who are and already have come out against a Ted Cruz run for the White House based on those things and their talking points are set…
"Cruz In, BUT NOT ELIGIBLE."
"A 'natural born citizen' is a person born of citizen parents.
Ted is not a 'natural born citizen' since Ted's father was not a citizen at the time of Ted's birth. Our Constitution requires a candidate must be a 'natural born citizen'. TED IS NOT ELIGIBLE TO THE PRESIDENCY."
Many such dissenters I believe are liberals wearing Conservative's clothing but some, as the one who posted the above comments yesterday on Facebook are simply misinformed.
Ted Cruz IS ELIGIBLE.
Let's examine the meat of the talking point against his eligibility shall we?