By Craig Andresen Right Side Patriots http://www.americanpbn.com/
Yesterday, in "Cruz IS Eligible – The Facts…Part 1 of 2," I began to provide indisputable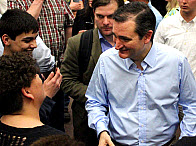 facts regarding the Constitutional eligibility of Ted Cruz while also exposing the falsehoods of Trump's followers and birthers.
Allow me to continue presenting those facts and further exposing the birther lies, because there is now an article out there being spread by low-info birthers which states, "NATURAL BORN CITIZEN – As the society cannot exist and perpetuate itself otherwise than by the children of the citizens, those children naturally follow the condition of their fathers, and succeed to all their rights. The country of the fathers is therefore that of the children; and these become true citizens merely by their tacit consent." (The Natural Law as understood by the Founders in Article II of the US Constitution)"
First of all…Article II never mentions "natural law," and second…the fact of natural law, as understood by the Founders and Framers would have been vastly different than what the birthers claim it was, because they hope that nobody does the proper research.  Blackstone wrote of natural born both as it pertained to England and to the American colonies, and in his writings, Blackstone is quite clear, in that "natural born," whether they be from England or the American colonies included all those born "in" the lands under British sovereignty.
Further…