By Craig Andresen Right Side Patriots http://www.americanpbn.com/
Once again, now as their candidate, Donald Trump, faces not gathering enough delegates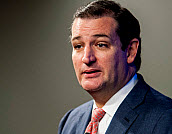 to secure the nomination on the 1st ballot at the convention, Trump's low-information followers are screaming more birther propaganda
"Cruz is FINISHED," they say…"HE'S NOT A NATURAL BORN CITIZEN," they post…"HE'S INELIGIBLE…THE CONSTITUTION…THE CONSTITUTION!!!"
I'm not trying to change the minds of Trump's blind followers here. There is little point in that as their minds are made up with little to no care for the end result. In that way, they're like lemmings…blindly following their chosen leader over a cliff. No…this article is for those whose eyes are still open, and have yet to make their 2016 choice who might be influenced by Trump's low-information voter propaganda.
In order to not be fooled by Trump's fools…real information is needed so…here it is.
Ted Cruz is eligible to run for, and hold the nation's highest office, and he is a natural born citizen.
Without research and proof…those words would mean nothing more than the words of Trump's blind followers harping and hawking the Cruz is ineligible propaganda so…allow me to give you the proof that he is eligible and a natural born citizen.
Let's start with the most recent and work our way back.