By Craig Andresen – Right Side Patriots on American Political Radio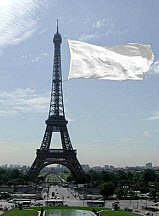 So…it's been an interesting week.
France, more than half a century after the end of WWII finally surrendered to Germany and President Trump finally fired FBI Director, James Comey.
The former has Islamists dancing on the Champs Elysées and Angela Merkel now running two countries without borders…while the latter has Hillary Clinton sweating like Britney Spears on Jeopardy.
Liberals, being the socialists that they are, are overjoyed at the prospect of an even more socialistic France crawling with assorted, but unvetted Islamists, but their heads are exploding over the firing of James Comey.
It's the difference between Moulin le Boom…