By Craig Andresen – The National Patriot and Right Side Patriots on cprworldwidemedia.net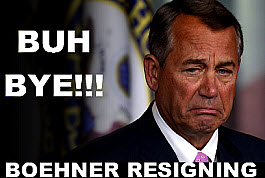 So, John Boehner finally did something right. He announced he will be stepping down as Speaker of the House and retiring from Congress altogether at the end of October.
Buh bye Boehner and don't let the door hit you in the Obama on your way out.
Boehner rose to the Speaker's chair in 2011 after the shellacking Obama and liberals took in the 2010 midterm election. We had hopes that he would represent the Conservatives on whose coattails Boehner rode into the position but that soon proved not to be the case.
Boehner was a RINO and far, FAR too often ended up either siding with or simply caving in to Obama's agenda. As the leader of the republican majority in the House, John Boehner was a crying, slobbering failure.
It was revealed last month that Boehner didn't have enough votes to retain his Speakership and, as losers often do, Boehner moved the goal posts, by cancelling the vote and hoping to somehow salvage his position for a later attempt.
It was never to be.
As Boehner put it to reporters, after dropping the bombshell behind closed doors Friday morning…