By Craig Andresen – The National Patriot and Right Side Patriots on cprworldwidemedia.net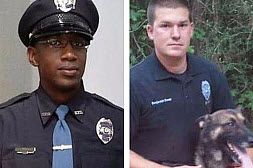 Saturday night, at about 8:30pm, a Hattiesburg police officer made a routine traffic stop…called for another officer to assist and moments after the second officer arrived, both officers, Benjamin Deen, 34, and Liquori Tate, 25…one black, the other white…had been shot and killed.
Three people were arrested early Sunday morning in connection with the murders…brothers Marvin and Curtis Banks and a woman…Joanie Calloway. Marvin Banks and Joanie Calloway have been charged with two counts each of capital murder while Curtis Banks has been charged with two counts of being an accessory, after the fact, to capital murder.
Another man, Cornelius Clark was arrested later on Sunday and he has been charged with obstruction of justice according to the Mississippi Bureau of Investigation.
All four suspects are black and the Banks brothers are your standard issue street thugs…Marvin Banks having been convicted of being in possession of stolen property in 2010, sentenced to one year and one day with four years of probation which was revoked sending him back to prison on a three year stint. Marvin Banks was released in June, 2012, placed in a supervised release program that ended just one year ago in May 2014.
While ON that supervised release, both Marvin and his brother Curtis were charged with selling crack cocaine in 2013.
Both the Banks brothers have been arrested over the years on a variety of charges including multiple weapons charges, drug charges and both have a string of felony convictions.
Every time some street thug…