By Craig Andresen Right Side Patriots http://www.americanpbn.com/
According to a new directive, from the Obama regime, Loretta Lynch, the DOJ and the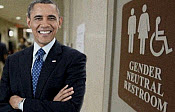 federal Department of Education… There is no obligation for a student to present a specific medical diagnosis or identification documents that reflect his or her gender identity, and equal access must be given to transgender students even in instances when it makes others uncomfortable.
In other words, when it comes to which bathroom to use, the overwhelming vast MINORITY must be made to feel comfortable at the expense of the vast MAJORITY whose comfort has no value whatsoever.
According to the "Education" Departments chief of indoctrination, John B. King… "No student should ever have to go through the experience of feeling unwelcome at school or on a college campus. We must ensure that our young people know that whoever they are or wherever they come from, they have the opportunity to get a great education in an environment free from discrimination, harassment and violence."
Public schools that ignore this directive have been threatened with losing federal funding. Bear in mind, this is NOT a law…it IS a threat…school districts that fail to comply, will be penalized under no law whatsoever.
According to Human Rights Campaign chair…whatever he is..Chad Griffen…