By Craig Andresen – The National Patriot and Right Side Patriots on cprworldwidemedia.net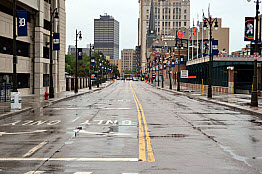 Well, it's about damn time.
With irrefutable evidence staring them in the face…maybe black America is starting to wake the hell up.
After all, statistics show that in 2013, there were 2491 black people murdered in the United States and that 2.245 OF those murders were at the hands of other BLACK people and while that stat simply shows murders…here's something a little more poignant…in 2014…cops killed 414 white people but only 233 BLACK people and yet BLACK people, who comprise just 13% of the U.S. population, are responsible for 42% of all cop killings.
Yesterday, the streets of cities across our nation FILLED with protest marches…BLACK people…PROTESTING black on black violence.
In Atlanta…New York…Detroit…Dallas…Los Angeles…from sea to shining sea…BLACK people took a stand…a long awaited stand…a much NEEDED stand against black perpetrated violence.
Jesse was on the streets of Chicago leading the protests…Al was in Atlanta leading the way and Barack, from a golf course somewhere added HIS voice to the rising chorus of black leaders decrying black violence.
REALLY???